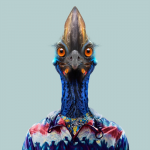 Visitors to Tropical North Queensland can experience two natural treasures in one amazing day — the Daintree Rainforest and the Great Barrier Reef. Jane Scott reports on a nature lover's dream.
They say it's not a ride, but when you're hanging upside down from a zipline and racing through ancient rainforest, with a breeze in your face and arms spread wide, you may beg to differ.
Cape Tribulation's Jungle Surfing Canopy Tour is at heart an eco-experience; a rare chance to get up close and personal with Tropical North Queensland's precious Wet Tropics forest and to learn more about the state's lesser-known World Heritage site (let's be honest, the reef does hog the limelight).
However, nature lovers with an adventurous streak will be glad to hear there are definitely thrills to be had on this eco-tour, one of many you can sign up for at Cape Trib, as the locals call this tiny village deep in the Daintree
For such a small place (population 330), Cape Trib has a major claim to fame: it's one of two places in North Queensland to sit at the juncture of two World Heritage sites.
On one side you'll find the Wet Tropics, which includes the Daintree but also encompasses other national parks as far south as Townsville, and on the other, the Great Barrier Reef, which sits a mere 19km offshore.
And the two sites are connected by more than happy proximity — the reef itself is built on the ancient rainforests of the past and
is fed by underground creeks that run from the land out to sea, surfacing at the reef. The interconnection is profound.
As a visitor, the opportunity to explore both of these sites, in a single day if you so choose, is impossible to resist.
It's hard to be anxious when you're taking in what's around you — an untouched, unspoilt, ancient rainforest rated as the world's second most irreplaceable natural World Heritage site.
Our Jungle Surfing adventure begins early in the morning, with the sun just beginning to penetrate the thick canopy. Fitted snugly into harnesses and helmets, our group follows a short track through the bush to the so-called Human Hamster Wheel, an ingenious device which uses people power (i.e. us) to lift surfers up to the first of six platforms.
Severe vertigo sufferers may struggle, but to be honest it's hard to feel anxious when you're busy taking in the majesty
of what's around you – an untouched, unspoilt ancient rainforest rated in the prestigious journal Science as the world's second most irreplaceable natural World Heritage site, after the Canaima National Park in Venezuela.
That ranking was based on the Wet Tropics' status as a haven for species — the Daintree is part of the world's oldest intact tropical rainforest and has the greatest diversity of plants and animals in Australia.
On your journey through the canopy, look out for the wompoo fruit dove, rainforest dragons, green tree frogs, the giant amethystine python, cassowaries and if you're fortunate, a rare Bennetts tree kangaroo.
There are 920 tree species, including the Idiot Fruit, which dates back 110 million years, the giant King Fern, and the spectacular, slow- growing fan palms, endemic to the area.
The Jungle Surfing zipline loops 350m through the forest and takes two hours to complete, including a full hour in the canopy. The highest point is platform three, at 19.5m tall, offering striking views — the eerily named Mt Sorrow towers behind, while in front are views across the canopy to the sparkling Coral Sea.
Travel between the platforms is exhilarating but gentler than you might expect — a top rope belay system means that the guides control your speed and progress, and generally keep things steady enough that you can appreciate your surroundings rather than rushing through them in a blur.
All the way, our guides Guy, James and Noel deliver a litany of facts and figures about the forest — many of the guides have been trained by the Wet Tropics Authority to deliver the latest and most accurate information to visitors. These guys are true nature lovers whose love of their jungle office is infectious.
Exhilarated by the tranquillity of the forest, the freshness of the incredibly pure air, and the thrill of the zip-lining itself, we're all game for the final challenge – the upside-down run home to the sixth and final platform.
Following the guides' instructions to the letter, I step off the platform, lean back, swing my legs up and cross them over in front of the harness connection.
Fighting every instinct I possess I then let go and swing my arms wide and I'm off, speeding through a wall of green to the safety of the platform. Consider those bragging rights officially nailed.
After a quick lunch at the Turtle Rock Cafe, we're ready to swap harnesses for stinger suits (between the months of November and May only) and step aboard a rigid inflatable boat powered by 700hp engines for our Ocean Safari snorkelling experience.
This half-day tour exploits Cape Trib's proximity to the reef, with guests ready to sink beneath the surface at beautiful Mackay reef just 25 minutes after departing Myall Beach.
It's full steam ahead as the powerful boat surges across the waves, but it's impossible to take our eyes off the land we're leaving behind.
Within minutes of our departure, all signs of human habitation at Cape Tribulation have been swallowed up by the canopy and all we can see are the towering, forest clad peaks of the Alexandra Range, fringed at the water's edge by pristine white sand and a lacy trail of surf.
In Cape Trib, nature remains very much in charge.
First stop at Mackay Reef is Turtles, a pretty mooring that promises — and delivers —sightings of green turtles.
Perfect for beginners, but equally satisfying for more experienced snorkelers, Turtles offers sheltered viewing of shallow reef, with "granny's garden" providing easy access to colourful corals, from bright yellow and indigo blue to more muted pinks and greens.
Multitudes of fish large and small swim all around us as we wave our hands over giant clams and dive down for a closer look at an eagle ray sheltering under a coral outcrop. Black tip and white tip reef sharks are often spotted while a group a few days before ours encountered a dugong.
Before long, there's a shout and it's turtle time — a group of four green turtles swimming and diving through the clear water, apparently untroubled by their human audience. As the adorable creatures glide from sea floor to surface and back again, we follow them up and down, exhausting ourselves in an effort to prolong this special moment.
Depending on conditions and tides, most Ocean Safari tours take in a second reef, Undine, before reluctantly turning for home. Once on dry land, visitors have the option of heading south across the Daintree River to civilisation or staying put for another night in wild, wonderful Cape Trib. It's a no brainer. In my book, Mother Nature wins, every time.